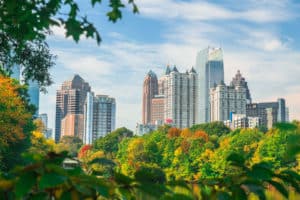 BCA Furnished Apartments offers the best value in short-term and extended-stay furnished apartment rentals in Atlanta
Planning an extended-stay or short-term rental in Atlanta? BCA Furnished and Serviced Apartments are your ideal low-cost temporary housing solution located in Buckhead and Midtown. We offer more space than a hotel room, plus a fully equipped kitchen, free parking, free WiFi internet, onsite or in-suite washer & dryer and a walkable lifestyle.
If you're looking for a weekly or monthly lease that includes all your utilities that won't break your budget yet offers a stylish, safe and clean environment, you'll choose BCA; your best alternative to an extended-stay hotel. Business travelers, film and television crews, corporate relocation specialists, longer-term vacation rentals, government employees and real estate agents all choose BCA when they need weekly or monthly fully furnished apartments with the luxury of weekly housekeeping services.
Staying more than a week usually means you spend way too much on hotels and restaurants, parking and room service, laundry, and extra internet service fees. Why pay for all the expenses of living in an Extended Stay Hotel when you can enjoy clean and comfortable brand new furnishings and live right in the center of Atlanta at a bargain short-term lease rate?
Book now – you'll be glad you chose BCA Furnished Apartments!